Now Available — Facebook Advertising: A Field Guide for Auto Dealers
Learning is best done in concert with touch. That's one reason why we're excited to announce the release of a physical (gasp!) book all about Facebook ads!
This beautiful work is now available on Amazon.
Now, here's more about tactile learning and why we decided to write this book.
Relearning to Write
I'm relearning how to write.
Now that I have a four-and-a-half-year-old trying to learn her letters, I'm rediscovering the lost art of writing . . . by hand.
My letters look a bit shakier and come a bit slower when I'm handwriting than when I'm typing, but I'm reminded of the connection between learning and touching.
My daughter slowly draws her letters, and I make sure that she writes them the same each time. Interestingly, if she writes a letter differently, her brain actually doesn't recognize them as the same.
As recent research has put it:
When writing by hand, our brain receives feedback from our motor actions, together with the sensation of touching a pencil and paper. These kinds of feedback is significantly different from those we receive when touching and typing on a keyboard.
While we spend our lives online, it's important to remember that when we truly want to master a topic, it helps to have tactile reinforcement.
That's why we decided to write a book — a physical one.
Learning Facebook with a Book-book
As we often preach here at 9 Clouds, Facebook is an essential marketing tool for any business.
What's more, its importance is only growing as we spend more time on our phones and on Facebook's other platforms, like Instagram and Messenger.
Advertising on Facebook, however, is not as straightforward as it should be. The interface changes frequently, many of the features are either hard to find or hard to figure out, and it's not always clear if what you're doing on Facebook is actually working.
After spending more than two years building ads and training businesses to use Facebook ads, we decided it was time for some tactile learning.
In other words, maybe you can learn how to use Facebook best with a book-book.
Evergreen Learning
The downside of tactile teaching methods, like books, is that they go out of date as soon as they're published. We've learned this from past experience.
That's why our team set out to teach four important (and evergreen) lessons in this new book:
Why Facebook ads matter
What you need to get started with Facebook ads
The best strategies to use on Facebook ads
Examples of automotive ads that work on Facebook
With plenty of white space for you to make those scribbly letters, this book can be a quick reference and launchpad for your Facebook ad campaigns.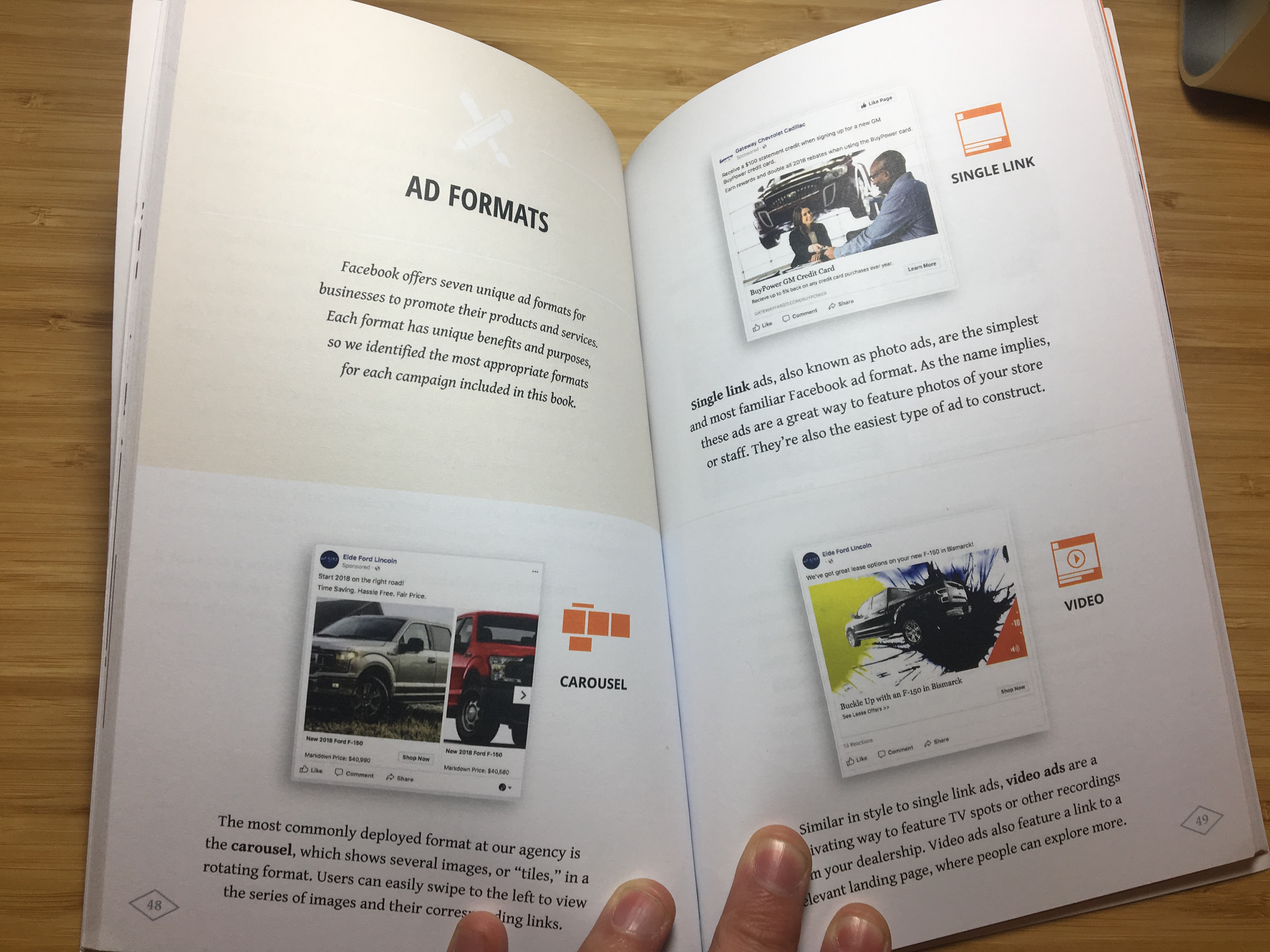 Choosing the Right Platform
At 9 Clouds, we often tell our clients to choose the right platform. Ignore what's flashy, and focus on what works.
When it comes to learning, a tactile experience works. My daughter knows this, and I've been reminded of it this year as I'm relearning with her.
We are proud to take our digital knowledge and translate it into tactile format for you. We hope you get your hands on it today.
---
---