9 Clouds Automotive Marketing Blog
Where automotive meets digital marketing.
9 Clouds published our second-annual State of Automotive Marketing this week.
Original research, like this report, improves our work and attracts customers. Learn why and how you can conduct original research for your company in this article.
Four Reasons to Conduct Original Research
1. Industry Mastery
I talk often about mastery. If you are one of the best at what you do, you will grow your business.
Original research is a great way to build mastery because you get direct insight into specific customers' needs. By knowing what your industry is doing and how they're doing it, your business can craft products and services that will best help your customers. If you see trends emerging, you can get ahead of the changes and be the first one to help.
Reading articles, attending conferences, and talking to customers all help you learn what works. Original research is a unique advantage because you will be the first — and potentially only — person to have access to that data.
Learn more in this recent talk I gave at HubSpot's annual INBOUND conference. The video will start at the section all about mastery.
2. Link Building
When your business shows up on search engines like Google, more customers find you. A major factor in determining where you rank on Google is the number and quality of links pointing to your website from other websites — a process known as link building.
Original research builds links for your website because it is data worth sharing. Many businesses publish blog posts or share articles based on industry research. If you work in candle making, for example, your audience wants to know about the latest research on candles!
Instead of quoting the most recent Forrester report or sharing an article from the Harvard Business Review, your research can be the source that others cite and share. Simply distill your findings into shareable stats.
In the State of Automotive Marketing, for example, we found those car dealers who check analytics at least three times a week are 3.5 times more likely to see a higher return on investment (ROI) than those who do not. That's a shareable stat that starts interesting conversations with dealers and vendors alike.
After distilling your takeaways, contact outlets in your industry, and invite them to download and share the findings. Soon, you will find publications you have never even heard of sharing and linking to your website, building your visibility for potential customers.
3. Client Acquisition
Customers want to work with masters.
By publishing your own market research, you establish mastery and will be found by more customers. Once they find you (and read your findings), you enjoy increased trust. These customers know that you understand their industry.
This trust shortens the sales cycle and provides great talking points when discussing potential products or services. In our case, confidently stating that analytics will help improve a dealer's marketing ROI makes us better at selling what we do. We know it works, and we have proof.
With trust from your buyers and confidence in your product, you will acquire more clients.
4. New Partnerships
Original research is also an opportunity to connect with new partners. Your research findings might help them better sell their services.
Look at your results, and find other vendors in your industry who could benefit from your findings.
Reach out to these companies. Ask if they would like a guest blog or video interview with you to discuss the results or if they would like to share the results with their audience. We have already seen success doing this with companies in the automotive space, such as Vin Advisor, NextUp, and conferences like CBT and Digital Dealer.
Thinking of your industry as an ecosystem enables you to help other companies with the shared goal of improving the work of everyone within that ecosystem.
Undoubtedly, this symbiosis will help generate more links and leads for your business in the long run.
How to Create Original Research
If you're on board with creating original research, it's time to get started.
It can be a long process, but if designed properly, the value of the work will justify the time.
1. Develop Questions
Your survey needs to be an easy-to-access questionnaire, ideally online. We like SurveyMonkey as a place to gather the answers.
Get started with building your questionnaire by asking yourself and clients in your industry what they would like to know.
A good way to think of this step is: What are the secret questions a company has about its competitors? If you can be the neutral arbiter of information, you can successfully identify what is happening across the industry and share it with everyone.
When developing these questions, make sure to include at least one that will measure success. In our case, we asked dealers if they saw an increase in marketing ROI. We also asked if their budget increased or decreased.
Asking questions about your clients' success and failures enable you to identify trends based on results. You can filter out the people who were successful (maybe with increased sales) and then see what they had in common with one another.
In our case, we identified that auto dealers who did not use Facebook were twice as likely to see a drop in their marketing ROI. That result is much more interesting than just learning how many people are using Facebook ads.
Ask your questions so that you learn what works.
2. Gather Answers, Aim for Relevancy
An online questionnaire makes it easy to solicit responses.
Ask yourself who your target audience is. In our case, we wanted to talk to marketing managers at car dealerships. Lemonly is currently conducting research on HR practices at businesses, which involves a much bigger audience.
When you know who you want to answer your survey, you can share it appropriately. If you have email addresses of personal contacts, that is a great way to start.
We also had success running Facebook ads targeted to our specific audience. We offered a small thank-you gift (a $10 Amazon gift card) to anyone who completed the entire survey. That can also help you get more answers.
Your original research should be as reliable as possible. Fortunately, when conducting research, you can take a sample of your audience and extrapolate results from your findings. The accuracy of your findings is known as your margin of error.
In the case of 9 Clouds, our State of Automotive Marketing survey has a margin of error of 9%. That means that when we say that 28% of dealers had a higher marketing budget in 2016 compared to 2015, the reality is that somewhere between 19% and 37% of dealers had a higher marketing budget in 2016.
The size of your audience and the number of your responses will influence your margin of error. In our case, there are 20,000 auto dealers in Canada and the U.S., and we had 108 responses.
Measure your margin of error with a calculator, and aim for a 95% confidence interval. The confidence interval means there is a 95% probability that your survey accurately reflects the attitudes of your audience.
As you collect and share responses, track what you do. When you publish your report, also share your methodology (here's ours). If you only ask for survey responses via email and then ask a question about how many people use email in your industry, your results will obviously be slightly skewed.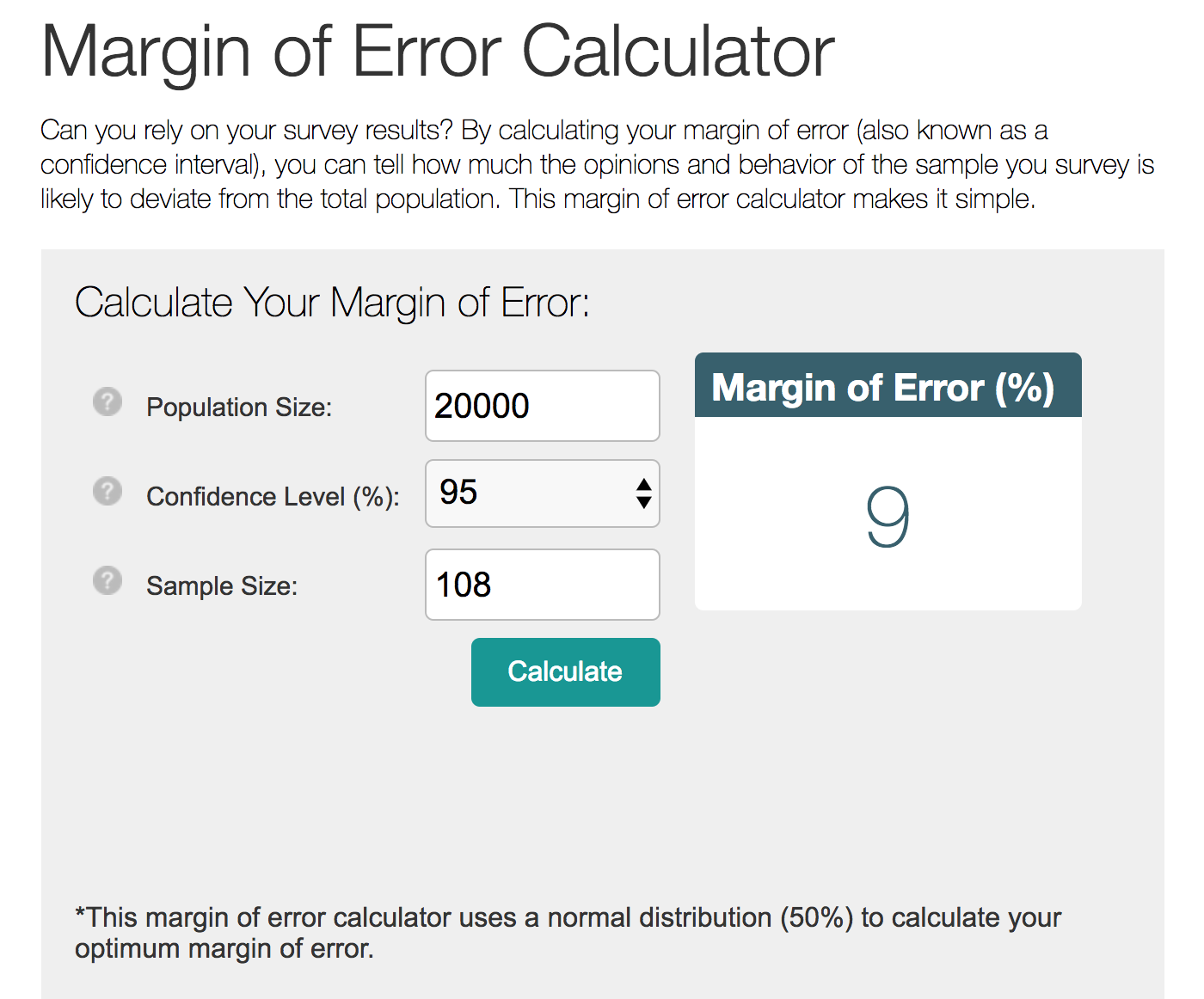 3. Compile Results and PDF
After you have gathered your responses, it's time to analyze the data. A tool like SurveyMonkey will create graphs for each individual question. That's a great starting place.
In addition to those initial graphs, import the data into Microsoft Excel. This allows you to create pivot tables, which will help you find significance in your data. You can create graphs that show what successful companies have in common (and what unsuccessful companies have in common, too).
Sort through the data to find significance. Then, build a narrative around the data. We like to break our report into sections, such as Marketing, Sales, ROI, etc. Within each section, we look at all the relevant answers and try to identify trends.
Create an overview or summary of each section of your research. Then, look at the sections as a whole. What do they have in common? What does the data indicate that businesses in your industry should do? What are some characteristics of successful businesses in your industry?
Answer these big takeaway questions to make your report accessible and actionable for your readers. When you have these answers, compile the results, summaries, and an introduction and conclusion into a nicely designed PDF. Here's ours.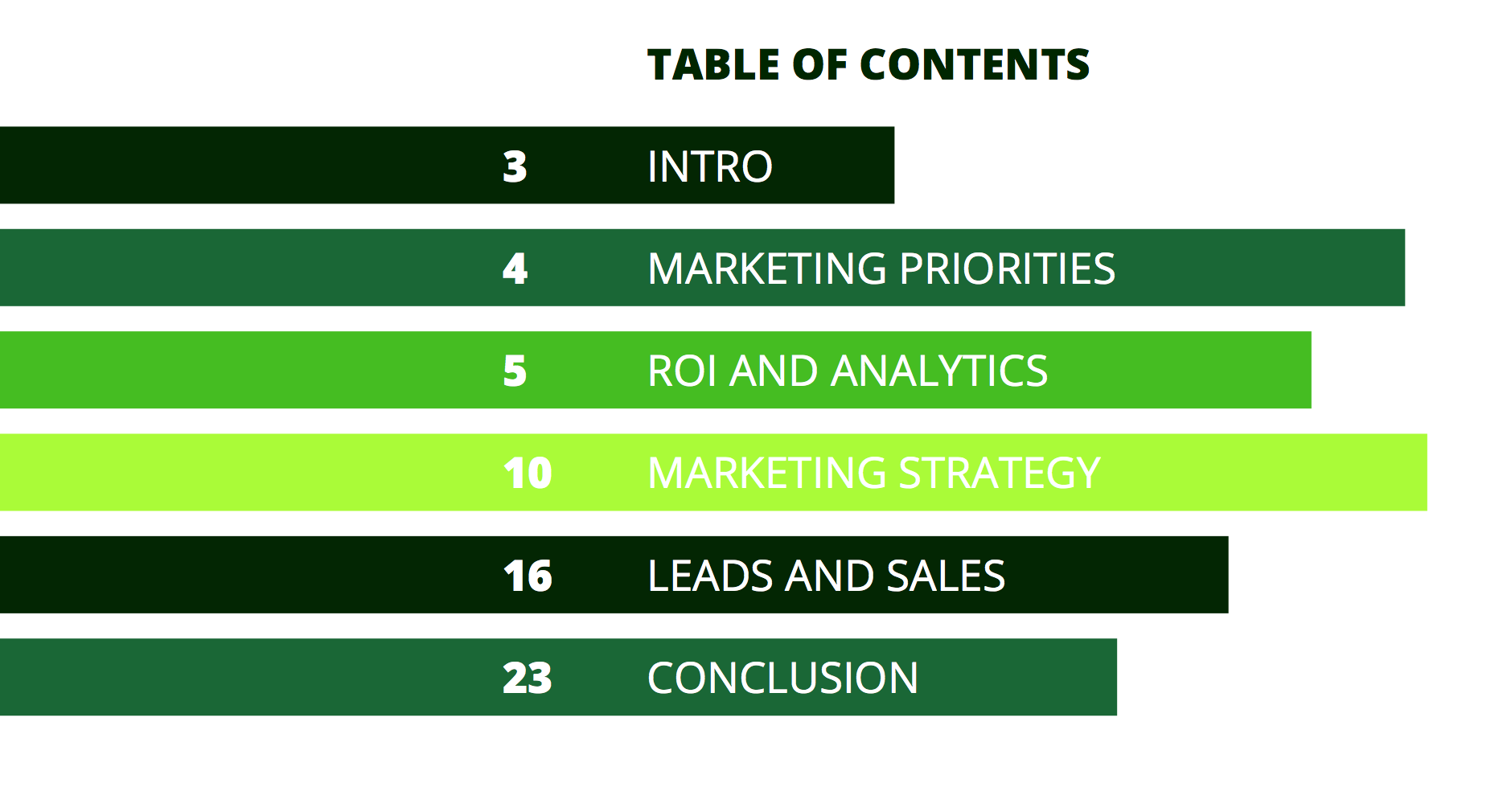 4. Make Report Accessible Based on Your Goals
Now the fun part: sharing the report!
When you share your findings, think through what your goals are. If you are trying to build a list of leads, you will want to ask people for their email address and/or phone number before they download it. If you are just looking to build links or your reputation, you may want to allow people to open the report without an "email gate."
In our case, we want to find dealers who need help taking advantage of the trends we uncovered, so we're asking for their email and a few qualifying questions. Then, we can follow up with people who download the report to see if they need additional help.
More Data, Fewer Thought Leaders
Chris Guillebeau recently argued that "people are tired of thought leaders. They don't want to be inspired. They want substance." I couldn't agree more.
It is easy for a company or person to share their advice on what to do, even if they are not a practitioner themselves.
Creating original research separates you and your business from competitors because you are creating new knowledge and insight. Armed with this data, you can confidently make predictions, develop products, and build your business.
Most importantly, you will become a master.
---
Download the State of Automotive Marketing
See our original research in action by downloading the 2017 State of Automotive Marketing report.
If you're an auto dealer, notice how we use data points that show success (increased ROI) and combine those with marketing behaviors.